There are several great books that cover the topic of canes and sticks and various aspects of collecting them. From the history of sticks to different materials used and types of sticks as well as what they have been used for over time and how they have changed throughout. Below are some of the ones we own and recommend: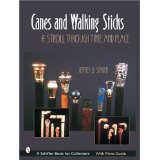 Canes and Walking Sticks a stroll through time and place, by Jeffrey B. Snyder
Beautiful color photographs display hundreds of canes & walking sticks that span centuries and a multitude of designs. This wide-ranging volume weaves historical tales through the narrative, bringing walking sticks to life in the reader's imagination. Additionally, discussions of walking stick anatomy, care, etiquette, and valuation are included. This book will be enjoyed by every walking stick collector and a fascinating read for all who have been intrigued by the romance of walking sticks.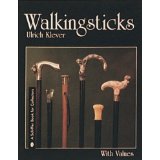 Walkingsticks by Ulrich Klever
This book gives a look at decorative walking sticks, including their use, history,and craftsmanship. Exploring the rise and fall of the cane industry.  This cultural history will become a useful reference for collectors.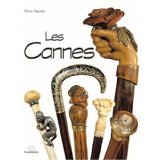 Les Cannes by Pierre Faveton
This French language book, has beautifully photographed canes of unusual styles on almost every page. So even if you can't read the text it is still a nice addition to your collection!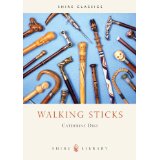 Walking Sticks by Catherine Dike
This book examines the two main groups of walking sticks and canes: gadget sticks and decorative ones. It will be useful not only to cane collectors but also to collectors in general, who will find that the study of canes overlaps many other fields.